Islabrook Farms is owned and operated by Jill McDonald and her husband Curtis Sambrook. In August of 2008, Jill and Curtis moved to their present location on 150 acres just outside of Saskatoon, Saskatchewan. With that move, Jill and Curtis took over the warmblood breeding operation from Jill's parents, Nick and Karen Rempel of Valley View Farms in Brandon, Manitoba.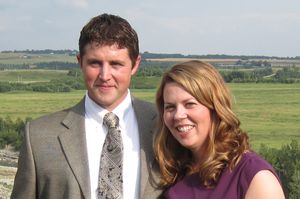 Curtis grew up on a mixed farm and Jill grew up on a ranch with a cow/calf operation and a Quarter Horse breeding program. While not being completely addicted to horses like Jill, Curtis too had "the bug" from an early age and has owned and ridden horses for most of his life. While Curtis sucessfully developed a business in the purebred cattle industry, Jill pursued horses, and found her passion in the discipline of dressage. Curtis still stays active with the horses at Islabrook Farms, and while he does not ride as much anymore, can always be seen helping Jill with chores around the farm. 

Both alumnus of the University of Saskatchewan, Jill graduated with an Honours Degree in Agricultural Economics and Curtis with a Diploma in Agriculture and then later with a Degree in Environmental Science. Jill decided to pursue her dressage interests further and moved to Germany to ride with top trainer Hans Heinrich Meyer zu Strohen. The opportunity in Germany shaped the current direction of the training and breeding program of Islabrook Farms. .

Jill is an FEI rider that has been actively training and competing in dressage for over 20 years. In addition to her invaluable time in Germany, Jill has had the opportunity to work with many top trainers including and currently relies on regular assistance from multi-Olympian Cindy Ishoy to further her training.

At any one time there are 4-5 horses in various stages of their riding careers and available for sale at Islabrook Farms. Jill is charged with overseeing their training programs. The young horses are exposed to a variety of situations with the end goal of producing confident, willing partners for their new owner. In addition, Jill also teaches a select group of hard working adult amateur dressage riders.

When not riding and looking after the horses, Jill and Curtis operate their own business in real estate development and agriculture consulting.