Don Maximus ("Max") - 2002 16.1 hh German Oldenburg Verband Gelding (Dublin x Mahogoni x Matador)

Max is one of the most interesting characters on the farm! Max is a homebred gelding, and the last of our offspring out of our foundation mare, MVK Maggie (Mahogoni x Matador). Jill has been riding him since he was 4, and the pair have been through a lot of ups and downs. Max broke his coffin bone in his hind foot as a 6 year old which side tracked his training for almost a year. Once back to work, Max suffered from severe saddle fitting issues, and ended up with nerve problems which almost ended his competitive career. With his dedicated therapist, Holly Marshall Franklin, Max has made tremendous progress, and is almost back to being a "normal" horse...well "normal" is relative in Max's world! 
Max has shown at Int. A and B and is training all the Grand Prix movements.   

 
Francesca 2012 16.1 German Oldenburg Verband (GOV) mare (Furstenball x Erin)
Francesca is a wonderful combination of talent and sweetness! 
MVK Folly ("Doug") - 2001 16.2hh German Oldenburg Verband Gelding (Fernet Branca x Mahogoni x Matador)
Forever in our hearts! (2001-2018)

Doug is a family favourite! We knew he was destined to be Karen's horse from the time he was a yearling. He is an excellent horse for Karen, and never gives her more than she can handle. While he can be a "Maggie boy" and very particular about some things in life (in Doug's world bugs should NOT exist), he is always there looking out for his rider, and willing to carry her to her next adventure. Doug and Max are half brothers through our foundation mare MVK Maggie (Mahogoni x Matador).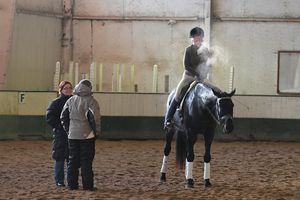 We truly are a family business. Jill talking to Cindy Ishoy about the ride her mom (aka Karen) just finished on Doug.